Jaw Crusher

Brief Introduction:Large crushing capacity and high production capacity. Mainly used for rough crushing of stone material.
Capacity:0.5~745t/h
Application:Widely used in mining, building materials, highway, railway, water conservancy and chemical industry.
Product Improvement:The crushing cavity is optimized and the crushing efficiency is greatly improved.


浏览:148 次

更新: 2018-01-10 08:33:34
Features

1、The movable jaw assembly is advanced and durable.
2、The crushing cavity is optimized and the crushing efficiency is greatly improved.
3、The jaw plate is curved design, in this way, the effective length of the jaw plate is increased, thus crushing capacity is hugely improved.
Working principle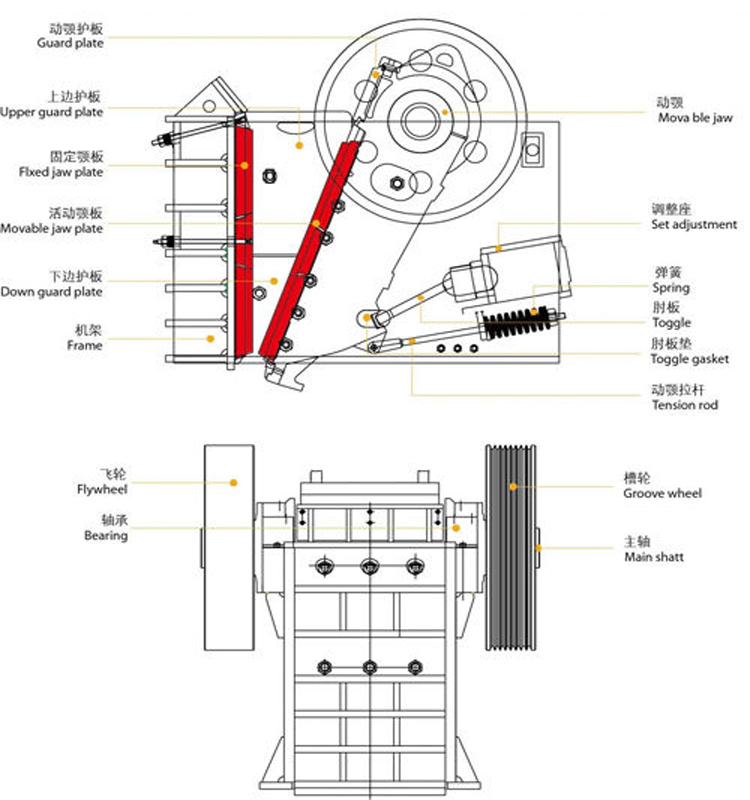 The strip and strip pulley are driven by a motor, and the movable jaw moves up and down via eccentric shaft. The angle between fixed jaw and movable jaw becomes smaller when the movable jaw runs down, then the materials are crushed into pieces. It will become bigger when the movable jaw runs up. The movable jaw board leaves the fixed jaw board under the action of pole and spring , then the end products come out from the crushing cavity.
Parameters

| | | | | | | | | |
| --- | --- | --- | --- | --- | --- | --- | --- | --- |
| Model | Inlet mm | Adjusting range of outlet mm | Max feeding size mm | Capacity t/h | Eccentric wheel speed RPM | Power KW | Dimension mm | Weight kg |
| PE100×150 | 100×150 | 5-20 | 80 | 0.5-2 | 300 | 2.2 | 525×535×605 | 230 |
| PE150×250 | 150×250 | 10-40 | 125 | 2-6 | 300 | 5.5 | 875×745×935 | 1100 |
| PE200×350 | 200×350 | 10-50 | 160 | 6-10 | 300 | 7.5 | 1080×1060×1088 | 1600 |
| PE250×400 | 250×400 | 20-60 | 210 | 8-15 | 300 | 15 | 1108×1090×1392 | 1850 |
| PE250×500 | 250×500 | 20-80 | 210 | 13-20 | 300 | 18.5 | 1360×1450×1440 | 3100 |
| PE400×600 | 400×600 | 40-100 | 350 | 14-36 | 275 | 30 | 1650×1748×1520 | 5800 |
| PE500×750 | 500×750 | 50-120 | 400 | 30-80 | 250 | 45 | 1900×1876×1821 | 9000 |
| PE600×900 | 600×900 | 75-200 | 480 | 56-192 | 250 | 55-75 | 2280×2245×2320 | 18700 |
| PEX150×750 | 150×750 | 10-40 | 120 | 8-35 | 320 | 15 | 1210×1572×1045 | 2800 |
| PEX200×1000 | 200×1000 | 15-40 | 160 | 12-50 | 330 | 22 | 1860×1385×1200 | 5200 |
| PEX250×750 | 250×750 | 20-60 | 210 | 10-745 | 320 | 22 | 1520×1728×1380 | 5000 |
| PEX250×1000 | 250×1000 | 20-50 | 210 | 15-50 | 330 | 30 | 1550×1990×1370 | 6500 |
| PEX250×1200 | 250×1200 | 20-60 | 210 | 20-70 | 320 | 45 | 1530×2285×1625 | 9000 |
| PE750×1060 | 750×1060 | 80-140 | 630 | 130-260 | 250 | 110 | 2620×2302×3110 | 28000 |
您可能喜欢