Impact crusher

Brief Introduction:Impact crusher is a kind of equipment with high production capacity, large reduction ratio and high crushing efficiency.
Capacity:5-150m³/h
Application:Widely used for sand and rock production in the industry of mining, construction, electricity power, building materials and chemical,etc.
Product Improvement:The impact crusher can be used for both of dry and wet crushing.


浏览:113 次

更新: 2018-01-10 08:34:19
Features

1.Cubic-shaped end products.
2.Adjustable end products sizes, simple crushing process.
3. The board hammer is made of high chrome and abrasion-resistant with powerful impacting force.
4. Easy to maintenance and cost-saving.
5. Sound construction and high efficiency.
Working principle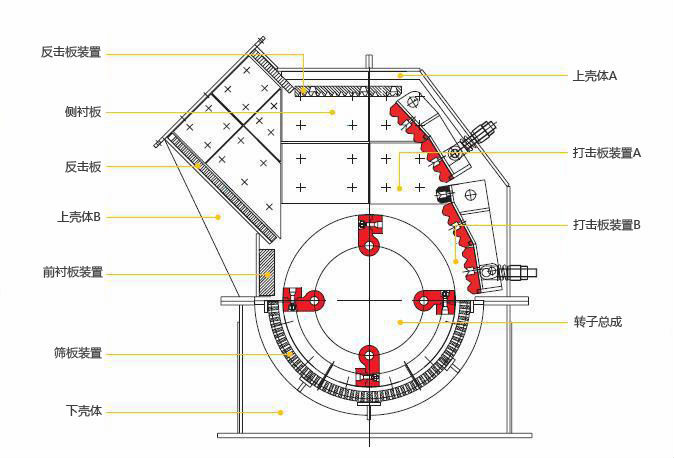 The materials are crushed via impact energy produced in the impact crusher. When the materials enter the zone of the board hammer, they are flung into the impact equipments via the high-speed impact of the board hammer. These materials will be re-crushed after rebounding into the scale board. The large materials are crushed into small pieces until it becomes the specified granularities. The end products come out from the base of the impact crusher.
Parameters
| | | | | | | |
| --- | --- | --- | --- | --- | --- | --- |
| Model | Max feeding size mm | Max discharge size mm | Capacity m³/h | Power kw | Weight t | Dimension mm |
| PC400×300 | 200 | 25 | 5-10 | 11 | 0.8 | 900×670×860 |
| PC600×400 | 250 | 30 | 10-22 | 22 | 2.26 | 1200×1050×1200 |
| PC800×600 | 250 | 35 | 18-40 | 55 | 4.8 | 1310×1180×1310 |
| PC1000×800 | 350 | 35 | 25-50 | 75 | 5.9 | 1600×1390×1575 |
| PC1000×1000 | 350 | 35 | 30-55 | 90 | 8 | 1800×1590×1775 |
| PC1200×1200 | 350 | 35 | 50-80 | 132-160 | 19.2 | 2060×1600×1890 |
| PC1400×1400 | 350 | 35 | 50-100 | 280 | 32 | 2365×1870×2220 |
| PC1600×1600 | 350 | 35 | 100-150 | 480 | 37.5 | 3050×2850×2800 |
您可能喜欢