Hydraulic Cone Crusher

Brief Introduction:Fine crusher, use hydraulic system to adjust the outlet and have overload protection.
Capacity:110~790t/h
Application:It is suitable for crushing of raw materials in mines, construction, energy, chemistry and other industries, and can break all kinds of ores and rocks above medium and medium hardness. The hydraulic cone breaking has high crushing ratio, high efficiency, low energy consumption and uniform grain size, which is suitable for medium and fine breakage.
Product Improvement:The main shaft is supported on both ends. The shape of the crushing chamber is more efficient, double insurance of hydraulic and lubrication systems.


浏览:103 次

更新: 2018-01-10 08:35:07
Features

1.It is advanced developed based on the latest technology introduced from Germany, which not only improves productivity and efficiency, but also expands the scope of application.
2.Good crushing performance in crushing, fine crushing and superfine crushing of various materials from limestone to basalt, from stone production to a variety of ores.
3.High efficiency.Both ends of the hydraulic cone crusher have spindle support, so it's able to withstand greater crushing force and greater stroke. If added with special crushing cavity adapting lamination principle, the machine has higher efficiency.
4.Huge capacity.It has a perfect design combination of crushing stroke, crushing speed and crushing cavity shape, which makes the machine have 35%~60% higher output than the old spring cone crusher in the condition of same fixed cone diameter.
5.High quality of finished products.The hydraulic cone crusher uses special crushing cavity, as well as the principle of laminated design, so that the cube proportions of finished product is significantly increased, with less needle-shaped stones and more even particle levels.
Working principle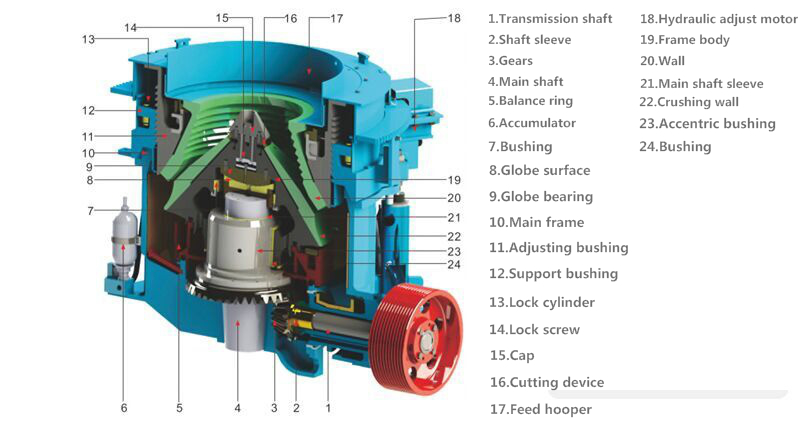 Hydraulic cone crusher consists of frame, transmission, hollow eccentric shaft, bowl-shaped bearing, crushing cone, springs and hydraulic pressure station for adjusting discharge opening. During operation, motor drives eccentric shaft shell to rotate through a horizontal axle and a pair of bevel gear. The axle of crushing cone swings with the force of eccentric shaft shell so that the surface of the crushing wall is close to the roll mortar wall from time to time. In this way, the ores and rocks will be pressed and crooked and crushed.
Parameters

Model

Type of broken cavity

Discharge outlet mm

Feed inlet mm

Capacity t/h

Power kw

Weight t

HPT200

Fine

≥13

95

120-200

160

13.5

Middle

≥16

120

140-220

Rough

≥19

190

150-250

HPT300

Fine

≥13

105

110-260

250

18

Middle

≥16

150

175-320

Rough

≥20

210

190-380

HPT400

Fine

≥14

110

185-345

315

26

Middle

≥20

196

255-430

Rough

≥25

251

295-560

HPT500

Fine

≥16

135

280-455

400

37

Middle

≥22

210

345-605

Rough

≥30

290

405-790
您可能喜欢