Auto Centering Vibrating Screen

Brief Introduction:Mostly used in fine ores sieving.
Capacity:20~300t/h.
Application:It is suitable for classification of fine materials in mines, metallurgy, building materials, chemical industry, etc.
Product Improvement:It uses wear-resistant rubber to make elastic limiting parts and adopts modern mining technology.


浏览:104 次

更新: 2018-01-10 08:35:33
Features

1. The vibrating screen has large amplitude and high screening efficiency.
2. Can provide wear-resistant rubber screen, long life.
3. It can provide high elastic wear-resistant rubber spring with long life, small noise and easy maintenance.
4. It can be divided into seat and hanging types.
5. The vibration sieves have good stability when it vibrates.
6. The material on the sieves of the self determined center vibrating screen can reach a good looseness and delamination under the action of vibration.
7. The weight the screen can be adjusted, and the size of the sieve can be adjusted according to the requirement of production.
8. When the amount of ore feeding changes, the amplitude also changes; when the amount of ore is less, the amplitude increases and the amplitude becomes smaller when the amount of ore is given.
Working principle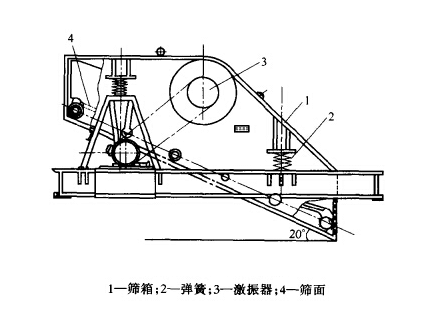 Driven by the motor through the pulley, the eccentric main shaft integrated with the screen box rotates and generates centrifugal force, and drives the vibration of circular trail of the screen box.
Parameters
| | | | | | | | |
| --- | --- | --- | --- | --- | --- | --- | --- |
| Model | Dimension mm | Max feeding size mm | Capacity t/h | Motor Model | Power kw | Weight kg | Remarks |
| SZZ0918 | 900×1800 | 40 | 20~25 | Y100L1-4 | 2.2 | 420 | Hanging |
| SZZ0918 | 900×1800 | 40 | 10~30 | Y100L1-4 | 2.2 | 553 | Seat |
| SZZ20918 | 900×1800 | 40 | 20~40 | Y100L1-4 | 2.2 | 570 | Seat |
| SZZ1225 | 1250X2500 | 100 | 100 | Y132S-4 | 5.5 | 1017 | Hanging |
| SZZ1225 | 1250X2500 | 100 | 100 | Y132S-4 | 5.5 | 1466 | Seat |
| SZZ21225 | 1250X2500 | 100 | 100~150 | Y132S-4 | 5.5 | 1320 | Hanging |
| SZZ21225 | 1250X2500 | 100 | 100~150 | Y132S-4 | 5.5 | 1870 | Seat |
| SZZ1530 | 1500×3000 | 100 | 90~200 | Y132M-4 | 7.5 | 1850 | Hanging |
| SZZ1530 | 1500×3000 | 100 | 90~200 | Y132M-4 | 7.5 | 2665 | Seat |
| SZZ21530 | 1500×3000 | 100 | 90~200 | Y132M-4 | 7.5 | 2963 | Hanging |
| SZZ1540 | 1500×4000 | 100 | 90~200 | Y160L-4 | 15 | 2865 | Seat |
| SZZ21540 | 1500×4000 | 400 | 90~200 | Y160L-4 | 15 | 3412 | Seat |
| SZZ1836 | 1800×3600 | 150 | 100~300 | Y160M-4 | 11 | 4500 | Hanging |
| SZZ21836 | 1800×3600 | 150 | 100~300 | Y180M-4 | 18.5 | 5616 | Seat |
您可能喜欢