Linear screen

Brief Introduction:Used as a high frequency vibrating screen for reciprocating motion along the orienteering line, mostly used for fine particle sieving.
Capacity:20~300t/h.
Application : It is widely used in mines, construction, electricity and other industries. It is suitable for dry, wet classification, dehydration, dewatering and other occasions such as medium and fine grain.
Product Improvement:The angle of the screen surface of the linear screen can be adjusted; the vibrator motor is used as a vibrator, the energy consumption is low.


浏览:101 次

更新: 2018-01-10 08:36:02
Features

1. Exquisite designing and easy to assemble.
2. Large screening area and efficient processing capacity.
3. The unique screen screen design is convenient and quick to replace the screen.
4. The parent network to fully support the fine mesh, so fine can be scored a long lifetime, and reduce the supplies of fine mesh.
Working principle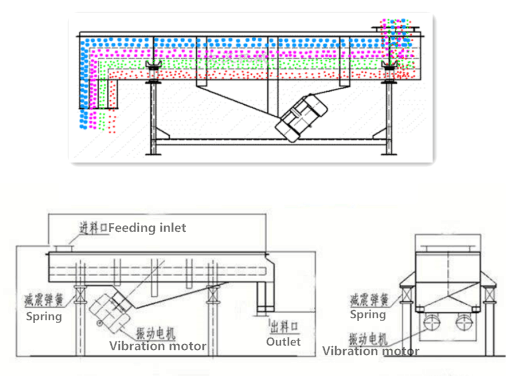 While two vibration motors are doing synchronous rotation or counter-rotation, the exciting force generated by eccentric block is cancelled out with transverse exciting force, and the longitudinal exciting resultant force is passed on the whole screen surface, in this way, the motion track of screening machine is a straight line. There is an inclination between the exciting force direction and screen surface, under the action of resultant force of exciting force and material gravity, the materials on screen surface are thrown up and jumped forward in a straight line. In this way, the materials screening and classifying are achieved.
Parameters
Model

Sieving area m2

Amplitude mm

Motor model

Power kw

Revolution rpm

Weight kg

DZS0410

0.4×1.0

2~4

YZO-3-6

0.25

960

650

DZS0412

0.4×1.2

2~4

700

DZS0415

0.4×1.5

2~4

760

DZS0612

0.6×1.2

3~5

865

DZS0718

0.7×1.8

3~5

YZO-10-6

1

960

1027

DZS0815

0.8×1.5

4~6

YZO-18-6

1.1

960

1053

DZS0918

0.9×1.8

4~6

YZO-20-6

2

960

1086

DZS0922

0.9×2.2

4~6

YZO-20-6

2×1.5

960

1164

DZS1018

1.0×1.8

4~6

YZO-16-6

2×1.1

960

1215

DZS1020

1.0×2.0

YZO-16-6

2×1.1

960

1280

DZS1225

1.25×1.25

4~6

YZO-20-6

2×2

960

1326

DZS1530

1.5×3.0

4~6

YZO-36-6

2×3

960

1875

DZS21530

1.5×3.0

4~6

960

2056

DZS1536

1.5×3.6

4~6

960

1935
您可能喜欢