Swaying feeder

Brief Introduction:The swaying feeder is a continuous and uniform feeder, installed under the bin.
Capacity:4.5~25t/h.
Application : It is widely used in mines, construction, chemical industry, cement and building materials and other industries.
Product Improvement:Use turbocharging reducer, compact structure and equipped with reliable sealing device.


浏览:106 次

更新: 2018-01-10 08:50:07
Features

1. It is installed under the ores bin, feeding size is not bigger than 50mm. It is suitable for the dry material which is not easy to lump. It is not suitable for transporting powder material.
2. the machine can also be used as a locking device when it is not working.
Working principle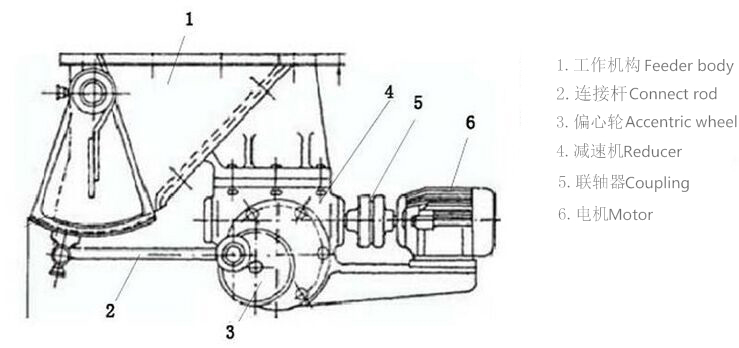 This machine adopts eccentric wheel mechanism, the jaw plate do reciprocating movement.The material will be evenly distributed. The eccentric wheel is driven by a motor through a turbine speed reducer, and then the circular motion is changed into reciprocating motion via the connecting rod, and the reciprocating motion of the jaw plate is driven. When the jaw plate clockwise swing on it making the accumulation of material due to friction and driven with movement, to fill the body outwards by the space formed from the storage hopper in the pouring down part of the new material, when the jaw does anti clockwise movement, because the barrier material within the material cannot follow the jaw plate into the body inside, so it is in its under the push by the feeding tube or conveyor feeding funnel,all in all short periodic oscillation can make the jaw plate continuous material feeding.
Parameters
Model

Inlet mm

Outlet mm

Max feeding size mm

Capacity t/h

Motor

Weight kg

Model

Power kw

250X250

250X250

250*30-115

25

4.5

Y801-4

0.55

130

300X300

300X300

300*30-125

30

6.5

Y802-4

0.75

272

400X400

400X400

400*50-130

35

12

Y90S-4

1.1

558

600X600

600X600

600*50-150

50

25

Y90L-4

1.5

613
您可能喜欢