Vibrating Feeder

Brief Introduction:The motor vibratory feeder can deliver lump and granular materials evenly from the storage bin to the receiving device. In the sand production line, it can continuously and evenly feed the crushing machinery, and sifting the material.
Capacity:96~560 t/h.
Application : To the conveyor, bucket elevator, crusher and mill equipment of continuous feeding, used in automatic control system, realize the automation of the production process, widely used in metallurgy, mining, mineral processing, building materials, chemical industry, abrasive and other industries crushing and screening equipment.
Product Improvement:1. The "blind plate + sieves" in the bottom plate of the feeding slot can be used to screen the small pieces of material 2 and double eccentric shaft vibrator in the feed.


浏览:103 次

更新: 2018-01-10 08:49:48
Features

1. Stable vibration, reliable work and long service life.
2. The exciting force can be adjusted and flow can be changed any time, the adjustment is easy and stable.
3. vibration motor is the exciting source, the noise is low, the power consumption is small, the regulating performance is good, and there is no blanking phenomenon.
4. it has simple structure, reliable operation, convenient adjustment and installation, light weight, small volume and convenient maintenance. When using the closed structure fuselage, it can prevent dust pollution.
Working principle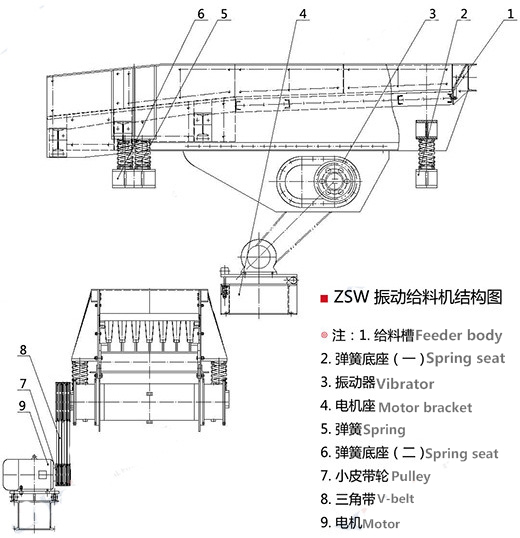 The electromotor drives the eccentric block of the vibrator to rotate with high speed via the v- belt. The eccentric block can produce huge eccentric force, thus the vibration screen box will do circular motion with certain amplitude. The materials on the slant screen will be influenced by the impulse transmitted from the screen box and do continuous throwing motion, and the materials smaller than the screen hole will go through the screen, thus realizing classifying.
Parameters
| | | | | | | |
| --- | --- | --- | --- | --- | --- | --- |
| Model | Dimension mm | Max feeding size mm | capacity t/h | Eccentric shaft speed RPM | Motor power kw | Weight kg |
| ZSW-380×95 | 3800×950 | 500 | 96-160 | 800 | 11 | 4082 |
| ZSW-420×110 | 4200×1100 | 580 | 120-240 | 800 | 15 | 4149 |
| ZSW-490×960 | 4900×960 | 500 | 120-240 | 800 | 15 | 5351 |
| ZSW-490×110 | 4900×1100 | 630 | 120-280 | 800 | 15 | 5352 |
| ZSW-590×110 | 5900×1100 | 630 | 350-500 | 800 | 22 | 6130 |
| ZSW-600×130 | 6000×1300 | 750 | 400-560 | 800 | 22 | 7800 |
您可能喜欢