Belt feeder

Brief Introduction:A mining feeder that can bear large pressure and realize continuous feeding.
Capacity:10~450t/h.
Application : It is widely used in mines, construction, energy and other industries, and can be used to transport all kinds of bulk and granular materials. According to the requirements of transportation technology, it can be transported by a single unit, or can be made up of multiple components or other conveying devices to form a horizontal or inclined conveying system to meet the needs of different layout types of operation lines.
Product Improvement:The speed regulation motor is used to adjust the ore volume by changing the speed of the belt.


浏览:110 次

更新: 2018-01-10 09:01:18
Features

1. Low power consumption and easy operation.
2. Easy installation and huge capacity.
3, Small noise.
4. Simple structure and easy maintenance.
Working principle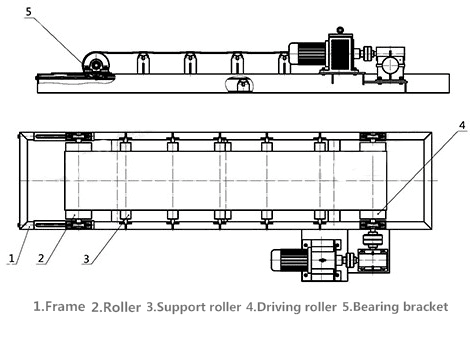 The material from the funnel to the belt conveyor, with the rotation of the AC speed regulating motor, the belt moves slowly, and the material on conveyor is sent to the reciever to achieve continuous feeding.
Parameters
Model

Belt width mm

Center distance of first and last roller mm

Diameter of first and last roller mm

Capacity t/h

Max feeding size mm

Motor

Weight kg

Model

Power kw

500*1000

500

1000

219

10-100

50

Y90S-4

1.1

266

500*1300

500

1300

219

10-100

50

YCT112-4B

0.75

266

500*1500

500

1500

219

10-100

50

YCT132-4A

1.1

293

500*1800

500

1800

219

10-100

50

YCT132-4B

1.5

300

500*2000

500

2000

219

10-100

50

YCT132-4A

1.1

767

500*2500

500

2500

219

10-100

50

Y100L1-4

2.2

538

500*3000

500

3000

219

10-100

50

Y90S-4

1.1

560

500*3500

500

3500

219

14-140

55

YCT160-4A

2.2

640.4

500*5000

500

5000

219

14-140

50

Y90L-4

1.5

899

650*1000

650

1000

219

77

50

YCT160-4A

2.2

1206

650*1500

650

1500

219

77

50

YCT160-4A

2.2

1100

650*2000

650

2000

219

77

50

YCT160-4B

3

1021

650*2500

650

2500

219

77

50

YCT160-4B

3

1120

650*3500

650

3500

320

77

50

YCT160-4B

2.2

1235

800*1000

800

1000

325

27-275

80

YCT160-4A

2.2

873

800*3000

800

3000

219

170

80

Y100L1-4

2.2

773

800*4000

800

4000

219

170

80

YCT200-4A

5.5

1886

800*4500

800

4500

400

170

80

YCT200-4A

5.5

1200

1000*2000

1000

2000

400

200-450

100

YCT160-4B

3

1549

1000*2500

1000

2500

400

200-450

100

YCT160-4B

3

2105

1000*6000

1000

6000

400

200-450

100

YCT225-4A

5.5

5214

1200*3000

1200

3000

450

240-400

100

YCT160-4B

3

3000

1200*6000

1200

6000

450

300

100

YCT225-4B

15

5500

1200*6500

1200

6500

450

200-300

100

YCT225-4B

15

6010
您可能喜欢