Wet grid ball mill

Brief Introduction:A ball milling equipment that discharging is forced by the grid.
Cylinder diameter:900mm~4500mm.
Application : Wet grinder ball mill is commonly used in rough ore milling.
Product Improvement:The drum of wet grid type ball mill can use high wear-resistant rubber liner. It has good wear resistance, long service life and easy maintenance.


浏览:114 次

更新: 2018-01-10 08:48:43
Features

1. Equipped with lifting device for easy maintenance.
2. Static and dynamic pressure bearing, stable and reliable operation.
3. Slow drive, easy to repair and start.
4. Oil mist lubrication device, ensure the gear lubrication and reliability.
5. The gas clutch is flexibly started.
Working principle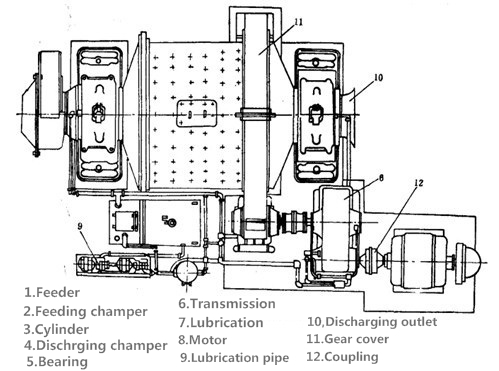 Ores from the feeder enter the first champer of the ball mill evenly when it works. There is a ladder-like or ripple-like scaleboard in the first champer, grinding media steel balls are in the champer. When the cylinder rotates, which generating centrifugal force to carries steel balls to a certain height and then balls fall to strike and grind the ores. After primary grinding in the first champer, the material then enters into the second champer via a single layer partition board. There is a scaleboard and steel balls in the second champer, so the materials are further grinded. In the end, the powder is discharged by grid.
Parameters
Model

Cylinder diameter mm

Cylinder length mm

Revolution rpm

Motor

Power kw

Volume m3

Max balls loading t

Weight kg

Dimension(L*W*H) mm

MQG 0909

900

900

39.2

Y225S-8

18.5

0.45

0.96

4400

4027

2213

2015

MQG 0918

900

1800

39.2

Y225M-8

22

0.9

1.92

5340

4196

2336

2015

MQG 1212

1200

1200

31.3

Y250M-8

30

1.1

2.4

11438

4500

2104

1733

MQG 1224

1200

2400

31.3

Y280M-8

45

2.4

4.6

13200

5764

2104

1733

MQG 1515

1500

1500

30.9

JR115-8

60

2.5

5

13120

6094

2743

2170

MQG 1530

1500

3000

30.9

JR117-8

80

5.08

8.6

19166

6800

2743

2170

MQG 1545

1500

4500

30.9

JR127-8

130

6.57

11.3

22147

9085

3091

2170

MQG 2122

2100

2200

24.05

JR128-8

155

6.6

16

42500

7750

4450

3533

MQG 2130

2100

3000

24.05

JR137-8

210

9

20

44260

8330

4450

3533

MQG 2145

2100

4500

24.05

JR138-8

245

13

23.5

50348

9933

4450

3533

MQG 2430

2400

3000

22.5

JR138-8A

280

12.1

22.5

58328

8823

5113

3894

MQG 2436

2400

3600

22.5

JR138-8B

320

14.5

26

61308

9455

5113

3894

MQG 2727

2700

2700

21.6

JR138-8B

320

15.3

30

83145

8643

5722

4674

MQG 2736

2700

3600

21.6

JR1510-8

400

18.4

36

89120

10463

5942

4674

MQG 2745

2700

4500

21.6

TDMK500-32

500

23

45

109318

11471

5907

4674

MQG 3236

3200

3600

18.5

TDMK630-36

630

25.6

51

144241

12442

7030

5150

MQG 3245

3200

4500

18.5

TDMK800-36

800

32.8

65

153390

13975

7030

5150

MQG 3639

3600

3900

17.3

TDMK1000-40

1000

36.2

75

168800

15000

7200

6300

MQG 3645

3600

4500

17.3

TDMK1250-40

1250

41.8

90

179900

15200

7750

6300

MQG 3650

3600

5000

17.3

TDMK1400-40

1400

46.4

96

183000

17600

7750

6300

MQG 3660

3600

6000

17.3

TDMK1600-40

1600

55.7

120

204000

17000

8800

6500

MQG 4060

4000

6000

16.2

TDMK1700-30

1700

69.8

137

214000

17400

9500

7600

MQG 4560

4500

6000

15..3

TDMK2300-30

2300

87

158

294000

17800

10500

7600
您可能喜欢