Wet rod mill

Brief Introduction:A grinding equipment uses steel rods as grinding medium.
Cylinder diameter:900mm~3600mm.
Application : The rod mill is mainly used for the rough grinding operation, which is suitable for the fine and coarse grinding of the ore in the first stage grinding, and is especially suitable for the treatment of brittle materials.
Product Improvement:The wet rod mill divided into three types, overflow rod mill, end side peripheral discharge rod mill and center peripheral discharge rod mill, which can meet the different needs of customers.


浏览:105 次

更新: 2018-01-10 08:45:07
Features

1. The curvature of the cone end cap of the rod mill is small, and the steel bar can move in regular motion in the mill.
2. The hollow shaft of the mine is large in diameter and is easy to repair. At the same time, the slurry surface can be reduced and the ore is discharged quickly.
3. The grinded size is uniform, few overgrinded.
4. The hollow shaft is cast steel, the inner lining can be dismantled, the rotary big gear is machined by the casting hobbing, and the body has the wear-resistant lining plate in the barrel, and it has good wear resistance.
5. The machine runs smoothly, and the work is reliable.
Working principle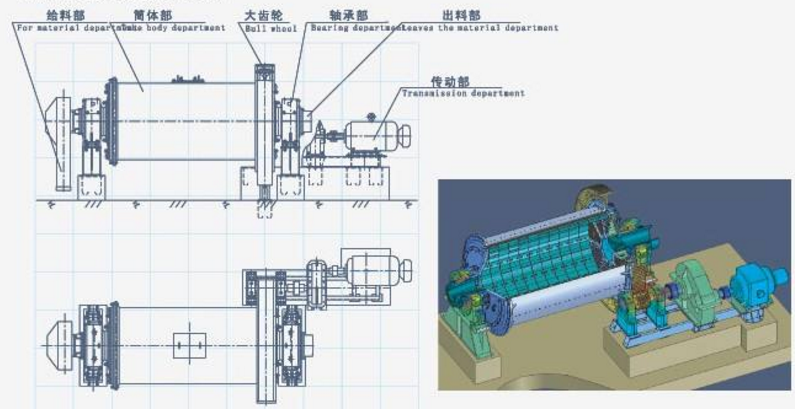 The main component of wet rod mill is a cylinder which is revolved by motor. Materials are put in cylinder through the feed opening and then thoroughly grinded. The falling course of iron balls and ores can produce huge falling impact and autogenous grinding. The continuous feeding of ores can create considerable pressure to make ores move from feed opening toward discharge opening. Finally, acceptable particles are discharged from the discharge opening. Acceptable ore particles are carried away by water by wet mill, or by air by dry mill.
Parameters
Model

Cylinder

Motor

Dimension mm

Volume m3

Max rods loading t

Weight kg

Diameter mm

Length mm

Revolution rpm

Model

Power kw

L

W

H

MBY 0918

900

1800

22

Y225M-8

730

4980

2370

2020

0.62~3.2

0.9

5700

MBY 0924

900

2400

30

Y250M-8

730

5670

3280

2020

0.81~4.3

1.2

5880

MBY 1224

1200

2400

45

Y280M-8

730

6450

2800

2500

0.4~4.9

2.28

12308

MBY 1530

1500

3000

95

JR125-8

725

7935

3185

2280

0.4~4.9

5

19990

MBYg 1530

1500

3000

80

JR117-8

725

7253

3070

2280

2.4~7.5

5

21210

MBYg 2130

2100

3000

180

JR136-8

735

8122

4220

3073

14~35

9

42123.5

MBYg 2136

2100

3600

210

JR137-8

735

8958

4320

3025

43~61

10.8

45800.5

MBYg 2430

2400

3000

280

JR138-8

735

9005

4836

3490

 43~61

11.5

55795

MBYg 2732

2700

3200

320

JR157-8

750

10509

5000

3620

 43~61

15.7

83110

MBYg 2736

2700

3600

380

JR158-8

743

10764

5750

3620

32~86

17.7

90441

MBY 2740

2700

4000

400

TDMK400-32

187.5

12300

5700

4700

43~110

20.4

75000

MBY 3040

3000

4000

570

JR1510-8

740

9800

3900

3900

54~135

26

90000

MBY 3245

3200

4500

800

TDMK800-36

167

14600

7000

5300

64~180

31

113000

MBY 3645

3600

4500

1250

TDMK1250-40

150

15200

8800

6800

80~230

41.8

139000

MBY 3654

3600

5400

1600

TDMK1600-40

150

15900

8800

6800

100~250

49.7

150000
您可能喜欢