Permanent magnetic cylinder separator

Brief Introduction: Used to select magnetic minerals or to remove magnetic minerals mixed in nonmagnetic minerals.
Capacity:24 -240t/h.
Application : It is widely used in mine, chemical industry and building materials. Used to select magnetic minerals or to remove magnetic minerals mixed in nonmagnetic minerals.
Product Improvement:The magnetic materials choose high performance, high coercivity, high remanence and NdFeB materials, and the surface of the cylinder can be lined with wear resistant rubber.


浏览:106 次

更新: 2018-01-10 08:44:14
Features

1. The magnetic system uses the NdFeB magnet with high magnetic energy and high coercive force, which has high magnetic field strength and great action depth.
2. The magnetic field with large field angle and smooth transition will increase the separation length and magnetic reversal times to achieve efficient separation of magnetic minerals and non magnetic minerals.
3. The magnetic system is not attached to the magnetically conductive stainless steel to ensure that the magnet does not fall off.
4. According to different uses and separation conditions, various magnetic separators have different magnetic system design and tank structure.
5. The structure of the tank is half countercurrent type, and it can be made into a flow channel according to the conditions of separation and the requirements of the user.
6. The cylinder adopts non-magnetic stainless steel and wear-resisting rubber tube, greatly prolongs the service life of.
Working principle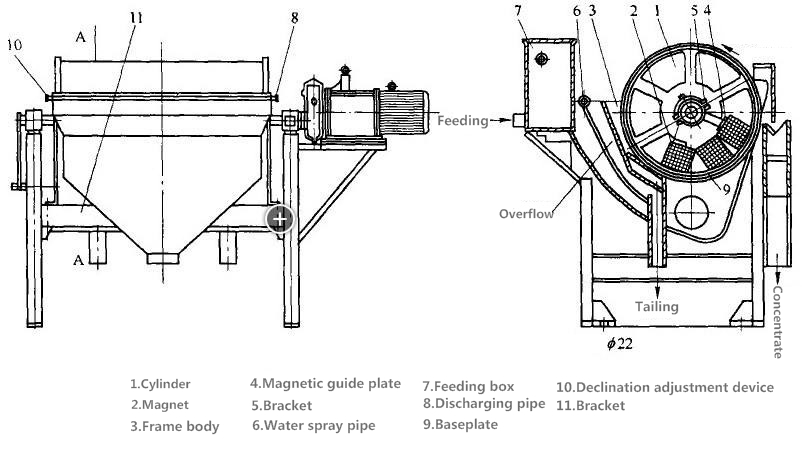 Permanent magnetic drum separator according to its bottom structure is different, can be divided into the downstream type, counterflow type and half counter current type three. Downstream type drum permanent magnetic separator: the pulp into the same direction and the steering cylinder, concentrate discharge on the other side, tailings are discharged directly in the bottom, generally used in 6 ~ 0mm of strong magnetic minerals, rough selection, low recovery rate, high grade (due to strong magnetic effect) but not fine (due to tube and the relative motion of the low speed, poor cleaning effect) countercurrent type drum permanent magnetic separator: the pulp into the cylinder to turn in the opposite direction and, to concentrate in mine tailings discharged from the side, and the other side discharge. It is generally applied to 0.6 - 0mm ferromagnetic ore. The recovery rate is high (because the tailings discharge point is far away from the ore outlet), but the grade is low. Half countercurrent type permanent magnetic drum: the direction of the pulp is half the same as the cylinder, half the opposite, and the difference is that the pulp is turned in the groove. Because the pulp is washed water rushed into a loose, can prevent the inclusion, and pulp movement direction and the magnetic direction, which is beneficial to the recovery of 0.5 0mm due to strong magnetic minerals of coarse and fine, scavenging recovery rate, high grade pulp, smooth surface, thus selecting stable, so widely used.

Parameters
| | | | | | | |
| --- | --- | --- | --- | --- | --- | --- |
| Model | CTB1018 | CTB1024 | CTB1030 | CTB1218 | CTB1224 | CTB1230 |
| Cylinder diameter mm | 1000 | 1000 | 1000 | 1200 | 1200 | 1200 |
| Cylinder length mm | 1800 | 2400 | 3000 | 1800 | 2400 | 3000 |
| Magnetic strength of cylindrical surface mT | 350~550 | 350~550 | 350~550 | 350~550 | 350~550 | 350~550 |
| Cylinder speed rpm | 23 | 23 | 23 | 20 | 20 | 20 |
| Dry ore treatment t/h | 42~65 | 53~86 | 82~124 | 58~97 | 71~120 | 103~158 |
| Feeding size mm | 0~10 | 0~10 | 0~10 | 0~10 | 0~10 | 0~10 |
| Pulp concentration % | 20~50 | 20~50 | 20~50 | 20~50 | 20~50 | 20~50 |
| Power kw | 5.5 | 7.5 | 7.5 | 7.5 | 11 | 11 |
| Weight t | 5.2 | 6.4 | 7.1 | 6.7 | 7.2 | 8.9 |
| Length mm | 3160 | 3790 | 4460 | 3380 | 4190 | 4770 |
| Width mm | 2250 | 2250 | 2250 | 2460 | 2460 | 2460 |
| Height mm | 1750 | 1750 | 1750 | 2000 | 2000 | 2000 |
您可能喜欢