Shaking table

Brief Introduction:The equipment for the separation of heavy and heavy minerals is realized by the asymmetric reciprocating motion of the bed.
Capacity:0.1~1.8 t/h
Application : Table 6S equipment can be used for roughing, scavenging, selection of various operations, sorting coarse sand and fine sand (2-0.5mm) (0.5-0.074mm) (-0.074), two different grain level. When tungsten, tin and other ores are treated, the effective recovery size of 6S rocking bed is 2-0.22 mm, and it can also be used for separating iron and manganese ore.
Product Improvement:Using the cam lever type head, the change of the position of the sliding head on the rocker arm can adjust the stroke, and the stroke is adjusted by the smooth motor pulley.


浏览:112 次

更新: 2018-01-10 08:42:58
Features

1. Combining the domestic rocking bed and gravity beneficiation technology, it has the advantages of high concentration ratio, good separation efficiency and simple operation.
2. The final concentrate and final tailings can be obtained at a time.
3. Compared with the traditional technology, it has the advantages of no drug, low energy consumption, easy to manage and so on, and has high cost performance.
Working principle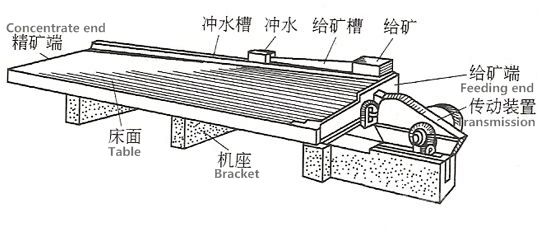 Separation is realized in the interaction of table surface and lateral flow under the bed surface, groove is vertical, perpendicular to the flow direction and flow, transverse flowing vortex formation in the groove, the interaction of eddy current and the bed shaking can make the loose sand layer and density stratification, heavy minerals to lower. Turn the light mineral layer, called this process of separation, the upper light mineral particles by large flow momentum, while the lower is less affected by the impact of heavy mineral grains, so the light particles in the bed surface transverse velocity is greater than the heavy mineral grains on the bed surface of the transverse velocity. In the longitudinal direction, the bed surface differential movement not only promote the loose sand layer stratification, and make heavy mineral grains with larger velocity along the longitudinal direction of the forward movement of the light particles at low speed to move forward. The direction of the ore particles depends on the velocity of the longitudinal and transverse velocities. Heavy mineral lower horizontal speed and larger longitudinal velocity, longitudinal velocity of light minerals with lateral velocity larger and smaller, application of parallelogram rule to vertical and horizontal speed synthesis, can see, concentrate discharging end velocity of heavy minerals tend to the table, the light mineral bias table tailings side, medium density it is located between the two particles.
Parameters
Model

Coarse ore table

Fine ore table

Slot table

Table dimension mm

4436X1825X1536

Stroke mm)

16~22

10~16

10~16

Jig frequency T/M

240~290

300~320

330~340

Water consumption t/h

190

80

50

Capacity t/h

30

8

8

Feeding size mm

2~0.2

0.5 ~0.037

0.074~0.019

Feeding ore concentration %

20~25

15~20

15~20

Minimum installation slope

2°30″

1°50″

0°45″

Overall dimension mm

5454X1825X1242

Adjustable range of stroke mm

8~22

Power kw

1.5

Weight t

1012
您可能喜欢