High weir spiral classifier

Brief Introduction:A kind of equipment which is classified by the different settling velocity of solid particles in the pulp.
Capacity:10~1785 t/d
Application :It is suitable for the classification of coarse grain and is widely used in the classification of various ores.
Product Improvement:The automatic lifting device for the return sand is added to the end of the sand return, which can cancel the collocation of the large spoon head of the ball mill and make the ball mill equipment run more smoothly.


浏览:105 次

更新: 2018-01-10 08:42:39
Features

1. The automatic lifting device for the return sand is added to the end of the sand return, and the configuration of the head of the ball mill is cancelled.
2. each ton of ore can save 1 to 1.5 degrees.
3. avoid the frequent overhaul of the big spoon head.
4. slow down the uneven impact on the large and small gear of the ball mill.
5. with the ball mill drum feeder supporting increased sand-scraping device, so that the flow of mortar from the side of the mill drum feeder.
6. models grading machine uses rolling instead of the original bearing, reducing friction and avoid frequent replacement of the bearing repair, using ZQ reducer, reducing installation and maintenance space.
7. Improved lubrication components, large-sized product with dry pumps, lubrication and reliable.
Working principle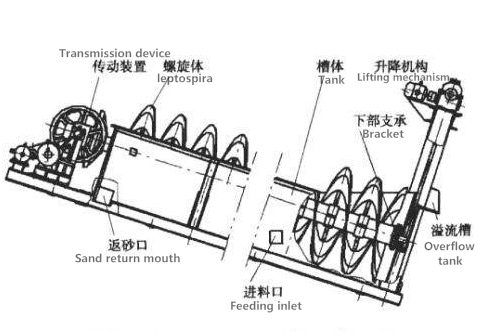 The tank is slantly installed. The inclination angle depends on equipment configuration in the process flow. The (left, right) spirals driven by the transmission mechanism rotates in the tank. The finely grained slurry enters the tank from the feeding inlet at one side and forms one slurry precipitation zone, whose surface area and volume depends on the value of the water tank's inclination angle and the height of overflow edge. The spirals rotate at low speed to play stirring role. After the slurry is stirred, the light and fine particles float above the surface and overflow from the overflow edge. Then they flow into the next working procedure of ore dressing. The heavy and thick particles sink into the bottom of the water tank and become return sand which is transported by the spirals to the ore discharge mouth for discharge.If ore grinding and classification are closed loop operation, the return sand discharged from the ore discharge mouth still goes into the mill for further grinding. Classifiers normally form closed loop operation together with mill.
Parameters
Type

Model

Spiral diameter

Spiral revolution

tank

Capacity t/d

transmission power

Lifting power

mm

rpm

L mm

W mm

Inclination angle

Overflow

Return

kw

kw

High weir single spiral

FG-5

500

9.2

3900

560

10.5°-14°

21-75

145-260

3

1.1

FG-7

750

7.8

5367

830

10.5°-14°

65-154

255-564

3

3

FG-10

1000

7

6500

1110

10.5°-14°

85

473-1026

5.5

5.5

FG-12

1200

5,6,7

6500

1372

10.5°-14°

150

1145-1600

5.5

5.5

FG-15

1500

2.5,4,6

8265

1664

14°-18.5°

235

1140-2740

7.5

7.5

FG-20

2000

5.4

8400

2396

14.5°-18.5°

400

5940

15

2.2

FG-24

2400

3.6,5.4,6.3

9160

2600

14°-18.5°

580

6800

11/15

2.2

FG-30

3000

3.17

12500

3200

14°-18.5°

890

11650

22

4

High weir double spiral

2FG-12

1200

5,6,7

6500

2620

14°-10.5°

300

2290-3200

5.5X2

2.2X2

2FG-15

1500

2.5,4,6

8265

3200

14°-18.5°

460

2240-5360

7.5X2

2.2X2

2FG-20

2000

5.4

8400

4296

14.5°-18.5°

800

11880

15X2

2.2X2

2FG-24

2400

3.6,5.4,6.3

9160

5040

14°-18.5°

1160

13600

11X2/15X2

2.2X2

2FG-30

3000

3.17

12500

6300

14°-18.5°

1785

23300

22X2

4X2
您可能喜欢