Submerged Spiral Classifier

Brief Introduction:The overflow end helix is completely submerged in a classifier under the surface of the liquid.
Capacity:50~1410 t/d
Application:The spiral blade at the overflow end of the submerged spiral classifier is all immersed under the overflow surface, which is mainly suitable for the ore grading of the overflow size of 0.15 to 0.07mm.
Product Improvement:The return sand end of the sunken spiral classifier increases the automatic lifting device for the return sand, thereby canceling the configuration of the big head of the ball mill, and the ball mill runs more smoothly.


浏览:111 次

更新: 2018-01-10 09:04:07
Features

1. The whole spiral blade submerged under the surface of the settlement area, and the settlement area has a larger area and depth.
2. Energy-saving and high efficiency.
3. avoid the frequent overhaul of the big spoon head.
4. It slows the uneven impact on the large and small gear.
Working principle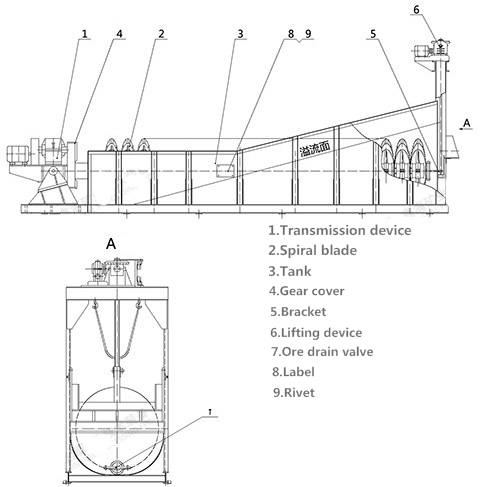 Ore pulps are fed into the tank through feeding opening located in the center of settling zone. Beneath the inclined water tank is the ore pulp classification zone where ore pulps are stirred by low-speeded impellers. Fine ore particles are lifted up and then spilled out the overflow opening while coarse ore particles precipitate down to tank bottom and are discharged via discharge opening.
Parameters
Type

Model

Spiral diameter mm

Spiral revolution rpm

Tank

Capacity t/d

transmission power

Lifting power

L mm

W mm

Inclination angle

overflow

Return

kw

kw

Submerged single spiral

FC-10

1000

6-7.4

6500

1110

10.5°-14°

75

473-1026

5.5

2.2

FC-12

1200

5,6,7

8400

1372

10.5°-14°

120

1170-1630

7.5

2.2

FC-15

1500

2.5,4,6

10500

1664

14°-18.5°

185

1140-2740

7.5

2.2

FC-20

2000

5.4

12800

2396

14.5°-18.5°

400

5940

18.5

2.2

FC-24

2400

3.6

14130

2600

14°-18.5°

455

6800

18.5

2.2

FC-30

3000

3.2

14300

3200

14°-18.5°

705

11650

30

4

Submerged double spiral

2FC-12

1200

6

8400

2620

14°-10.5°

240

1770-2800

7.5X2

2.2×X2

2FC-15

1500

2.5,4,6

10500

3200

14°-18.5°

370

2240-5360

7.5X2

2.2×2

2FC-20

2000

5.4

12800

4280

14.5°-18.5°

640

7780-11880

18.5X2

2.2×2

2FC-24

2400

3.6

14130

5040

14°-18.5°

910

13700

18.5X2

2.2×2

2FC-30

3000

3.17

14300

6300

14°-18.5°

1410

23300

30X2

4×2
您可能喜欢