High efficiency mixing tank

Brief Introduction:Efficient mixing tank is a kind of slurry mixing equipment can make do motion cycle on the inside of the tank.
Volume:0.58~45m3
Application : It is mainly used for slurry mixing before flotation, so that the agent can be fully mixed with pulp, and it can also be used in chemical industry, building material industry, slurry mixing plant, cyanide plant, sewage treatment plant and other industrial sectors.
Product Improvement:The unique umbrella impeller exerts downward pressure on the slurry to make the slurry move up and down along the draft tube, and the mixture of the agent and the slurry is more sufficient. The enhancement of the stirring capacity makes the circulation ability of the ore and mine stronger.


浏览:100 次

更新: 2018-01-10 09:07:07
Features

1. the diameter of the impeller is increased and the line speed is increased, which makes the pulp and the ability to stir the drugs more.
2. the impeller is designed to be an umbrella shaped impeller to enhance the mixing capacity of the pulp and the medicine.
3. slot and a guide fluid, the fluid in the guide impeller, enhance mixing ability, negative pressure generated by the operation of the pulp, and guide fluid and the negative compress in a limited space, thus speeding up the pumping capacity for drugs and pulp, the pulp and drug circulation capacity further strengthened.
4. The umbrella impeller has a downward pressure during the operation, which also accelerates the pumping capacity of the pulp and strengthens the circulation capacity of the pulp and the drugs.
5. In the lower part of the diversion body, the roommate ejected body, the pulp and the drug entered into it, and the circulation ability was further strengthened. The full reduction and circulation of the pulp and drugs make the mineral surface fully chemical and favorable for flotation.
Working principle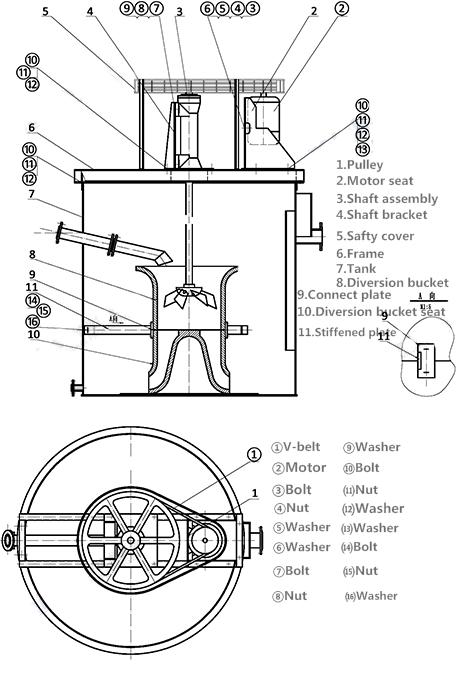 The high efficiency stirred tank is a kind of stirring equipment which can make the pulp circulate up and down inside the mixing tank. The rotation of the impeller is made by the rotation of the motor through the pulley and the triangular belt to make the pulp and the reagents agitated evenly.
Parameters
Model

Volume m3

Impeller

Motor

Weight kg






Revolutiom rpm

Diameter mm

Model

Power kw




GBJ-1000×1000

0.58

530

240

Y112M-6

2.2

1548

GBJ-1250×1250

1.4

350

240

Y100L2-4

3

1808

GBJ-1500×1500

2.2

320

420

Y132M2-6

5.5

2207

GBJ-2000×2000

4.4

240

560

Y160L-6

11

3150

GBJ-2500×2500

11.2

271

560

Y180L-6

15

3943

GBJ-3000×3000

19.1

240

700

Y225S-8

18.5

4613

GBJ-4000×4000

37

180

900

Y280S-6

45

9249
您可能喜欢