Pulp mixing tank

Brief Introduction:Traditional slurry agitator.
Volume:0.0785~45m3
Application : The pulp mixing tank is mainly used for the slurry agitation before the flotation operation, so as to make the medicament mixed with the pulp fully. It can also be used in the industrial departments of chemical and building materials industry, such as slurry mixing, cyanide chemical plant, sewage treatment plant and so on.
Product Improvement:The tank can be lined with wear-resistant and anticorrosion rubber liner, which can effectively prolong the service life of the equipment, and the application field can be extended to the agitation of corrosive pulp.


浏览:98 次

更新: 2018-01-10 08:39:20
Features

1. The tank be lined with high wear-resistant rubber, and its anti-corrosion and wear-resisting property is strong.
2. impeller is designed for strong mixing of pulp.
3. the operation is stable and the maintenance is convenient.
Working principle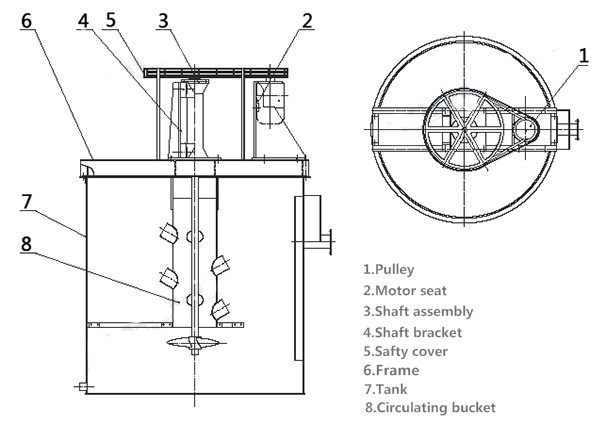 The impeller is discharged from the lower end of the impeller along the axial direction under the rotation of the impeller, and the negative pressure is formed in the impeller cavity, which makes the pulp flow into the impeller cavity from the impeller of the agitating tank and replenish it. At the same time, under the guidance of the steady flow plate, the pulp forms the vertical circulation flow of the center downward and upward in the trough. When the upflow velocity of the pulp is greater than the sedimentation rate of the ore particles, the ore particles in the pulp will be suspended and keep the uniform concentration.
Parameters
| | | | | | | |
| --- | --- | --- | --- | --- | --- | --- |
| Model | Volume m3 | Impeller revolution mm | Impeller diameter mm | Motor | Power kw | Weight kg |
| BJ-500X500 | 0.0785 | 493 | 160 | Y80L-4 | 0.55 | 120 |
| BJ-750X750 | 0.25 | 530 | 240 | Y100L-6 | 1.5 | 240 |
| BJ-1000X1000 | 0.58 | 530 | 310 | Y100L-6 | 1.5 | 680 |
| BJ-1500X1500 | 2.2 | 320 | 400 | Y132S-6 | 3 | 790 |
| BJ-1600X1800 | 2.6 | 331 | 400 | Y132M2-6 | 5.5 | 990 |
| BJ-2000X2000 | 4.4 | 230 | 550 | Y132M2-6 | 5.5 | 1800 |
| BJ-2000X2500 | 5.9 | 230 | 630 | Y160M-6 | 7.5 | 2106 |
| BJ-2500X2500 | 9.2 | 230 | 630 | Y160M-6 | 7.5 | 2766 |
| BJ-3000X3000 | 14.8 | 210 | 700 | Y225S-8 | 18.5 | 4613 |
| BJ-3500X3500 | 24 | 230 | 850 | Y225M-8 | 22 | 5980 |
| BJ-4000 X 4000 | 45 | 153 | 1000 | Y250M-8 | 30 | 8910 |
您可能喜欢