Reagent mixing tank

Brief Introduction:Agitator for the preparation of medicament.
Volume:0.094~14.8m3
Application : The agitation tank is used for the preparation of various agents before the flotation operation.
Product Improvement:The inner lining of the cylinder has a wear-resistant and anticorrosion rubber, which can effectively protect the corrosion of the medicament, and the mixing ability of liquid and medicine is strong.


浏览:103 次

更新: 2018-01-10 08:38:58
Features

1. the production efficiency is high and the energy saving.
2. the operation is stable and the maintenance is convenient.
3. the impeller of the stirred tank is covered with corrosion resistant rubber, which has a good protection function for the corrosive action of the chemicals, improves the service life of the stirred tank, and saves the cost for the customer.
Working principle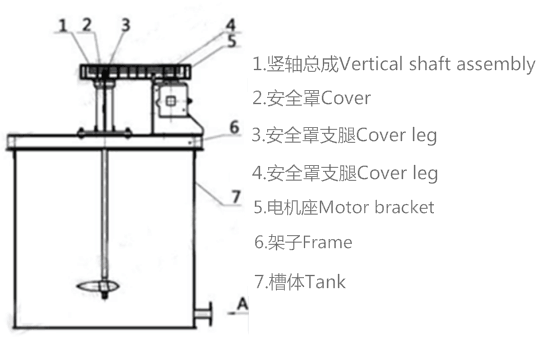 Reagent mixing tank adopts barrel shaped radiation circular spiral impeller for mixing operation by mechanical stirring method. The motor drives V-belt transmission device which drives the impeller. Reagents mix evenly under the rotation of impeller preparing for next step that mix the ore slurry and reagents.It is used for reagents preparation before floatation.
Parameters
Model

Volume m3

Impeller

Motor

Weight kg

Revolution rpm

Impeller diameter

Model

Power kw

BJW-500×500

0.074

525

240

Y802-4

0.75

142

BJW-500×600

0.094

525

240

Y802-4

0.75

210

BJW-750×750

0.25

530

240

Y100L-6

1.5

280

BJW-1000×1000

0.58

513

230

Y90L-4

1.5

420

BJW-1250×1250

1.4

401

380

Y100L1-4

2.2

973

BJW-1500×1500

2.2

320

380

Y132M1-6

4

1265

BJW- 1600×1600

2.56

332

380

Y132M2-6

5.5

1530

BJW-2000×2000

5.46

233

550

Y132M2-6

5.5

1850

BJW- 2500×2500

12.26

285

630

Y160L-6

11

2681

BJW-3000×3000

17.5

200

800

Y225S-8

18.5

4620

BJW- 3500×3500

29.5

190

800

Y225M-8

22

5380

BJW- 4000×4000

46

200

1000

Y250M-8

30

5380
您可能喜欢