XJ Flotation machine

Brief Introduction:A mechanical agitation type flotation machine with self suction.
Capacity: 0.05~7m³/min
Application : Metal and non-metal coarse selection, selection, cleaning and reverse flotation, with self-priming air and self-priming pulp capacity.
Product Improvement:The flotation equipment at the bottom of the groove and bar is arranged between the boss, from the wizard, can speed up the gas mixture into the slurry tank bottom velocity; the slot bottom and the bar is arranged between the arc plate body around to flow, movement, the uniform distribution in the slot, and a track of W type.


浏览:105 次

更新: 2018-01-10 08:40:39
Features

1. The particle size of the mixture is very strong, and the movement of the slurry is good. It is especially suitable for the flotation of mineral materials which are larger, faster and coarser.
2. The special steady flow plate is made up of many arc blades with different lengths to weld on the bottom plate of the trough. It can make the mixture of slurry and gas distribute evenly in the tank and prevent the slurry from turning in the tank.
3. inflatable volume, strong stirring force and bubble dispersion of high.
4. slurry, gas, medicine mixed well.
5. Fast flotation speed.
Working principle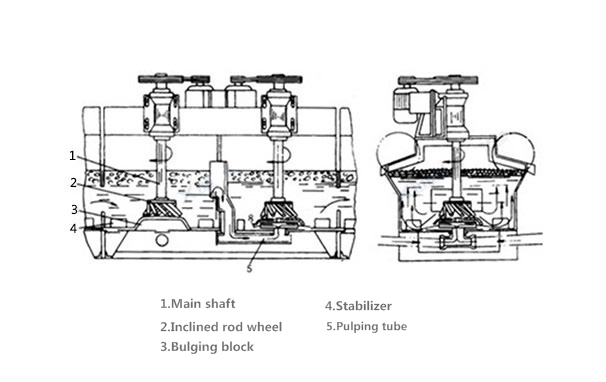 Flotation cell has three functions,air absorption, slurry absorption and floatation separation. The cells form a floatation separation loop by itself without any auxiliary equipment.It is allocated horizontally, which favors the change of flow. The circulation of mineral slurry is reasonable, and can avoid the disposition of coarse sand to the largest extent. There is self-control device on the surface of mineral slurry, so it is easy to adjust it. The impeller has backward-inclined upper and lower vanes, which produce upper and lower circulation of mineral slurry respectively.
Parameters

Model

Volume m3

Capacity m3/min

Impeller diameter

Impeller revolution rpm

Motor Power kw

Weight kg

Agitation

Scraper

XJ-1

0.13

0.05-0.16

200

600

1.5

0.55

320

XJ-2

0.23

0.12-0.28

250

504

3

390

XJ-3

0.35

0.18-0.4

300

483

1.5

0.75

430

XJ-6

0.62

0.3-0.9

350

400

3

1.1

860

XJ-11

1.1

0.6-1.6

500

330

5.5

1635

XJ-28

2.8

1.5-3.5

600

280

11

2430

XJ-58

5.8

5-7

750

240

22

1.5

3633
您可能喜欢