SF flotation machine

Brief Introduction:SF flotation cell is a mechanical agitation type flotation equipment with self-slurry suction and self-air suction.
Capacity: 0.24~12m3/min
Application:It can be widely used for the selection of non-ferrous metal, black metal and non-metallic minerals. It is suitable for coarse and medium flotation plant.
Product Improvement:The two sides of the impeller of the floatation machine have the backward leaning blade, which can realize the double circulation of the pulp in the slot; the forward tilting tank has the small dead angle and the foam speed is fast.


浏览:109 次

更新: 2018-01-10 08:38:40
Features

1. the suction volume is large and the energy consumption is small.
2. self - suction air, self - sucking pulp capacity, horizontal configuration, no need for foam pump.
3. the speed around the impeller circle is low, and the wear life of the worn parts is long. The gap between the impeller and the cover plate is large. The gap between the impeller and the cover increases due to wear, and the clearance has little influence on the intake volume.
4. the slurry in the trough is circulate up and down in a fixed flow way, which is beneficial to the suspension of the coarse grain minerals.
Working principle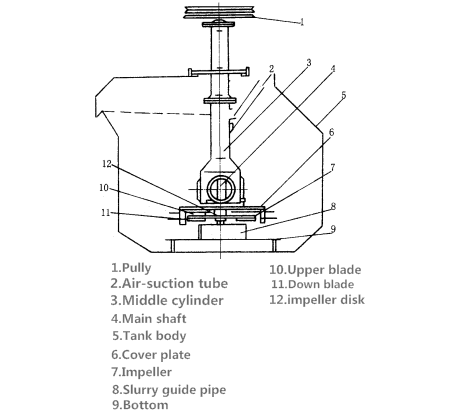 When the motor drives the impeller to revolve, the centrifugal force and negative pressure are generated. On one hand, ample air is absorbed and mixed with mine slurry. On the other hand, the mixed slurry is mingled with additive. meanwhile the foams are thinning, the mineral is bounded with foams, and floats go up to the surface of mine slurry and the mineralized foam is formed. The liquid surface can be adjusted with the height of adjustment flashboard, thus the useful foams are scraped with squeegee.

Parameters

| | | | | | | | |
| --- | --- | --- | --- | --- | --- | --- | --- |
| Model | Volume m3 | Capacity m3/min | Impeller diameter mm | Impeller revolution rpm | Mixing motor power kw | Scraping motor power kw | Weight kg |
| SF-0.37 | 0.37 | 0.2~0.4 | 300 | 352~442 | 1.5 | 0.55 | 468 |
| SF-0.7 | 0.7 | 0.3~1.0 | 350 | 336~384 | 3 | 1.1 | 629 |
| SF-1.2 | 1.2 | 0.6~1.6 | 450 | 312 | 5.5 | 1.1 | 1373 |
| SF-2 | 2 | 1.5 ~3 | 550 | 280 | 11 | 1.5 | 1879 |
| SF-2.8 | 2.8 | 1.5~3.5 | 550 | 280 | 11 | 1.5 | 1902 |
| SF-4 | 4 | 2.0 ~4 | 650 | 235 | 15 | 1.5 | 2582 |
| SF-6 | 6 | 3~6 | 760 | 191 | 30 | 2.2 | 3540 |
| SF-8 | 8 | 4.0 ~8 | 760 | 191 | 30 | 2.2 | 4129 |
| SF-16 | 16 | 5.0 ~16 | 850 | 169~193 | 45 | 1.5 | 7415 |
| SF-20 | 20 | 10 ~12 | 850 | 169~193 | 45 | 1.5 | 9828 |
您可能喜欢