XJQ/JJF flotation machine

Brief Introduction:A self-air suction mechanical stirring floatation cell without slurry suction. Capacity: 2-20m3/minApplication : It is widely used in the selection of non-ferrous metal, black

浏览:99 次

更新: 2018-01-10 08:41:08
Features

1. Shallow groove type, small diameter of impeller, low speed and low electricity consumption.
2. the gap between the impeller and the stator is large, the stator is a cylinder with an elliptical hole, which is beneficial to the mixing and dispersing of the air with the pulp.
3. the height of the stator is lower than that of the impeller, and the circulation of the pulp is large, and it can reach 2.5 times.
4. The stator's parachute type dispersing cover can make the swirl produced by the impeller separated from the foam layer so that the pulp surface is stable.
5. The suction volume is large and the dispersing effect is good.
6. the mixing degree is moderate, solid particles are suspended well, not sink, and the stop work does not have to be mine.
7. The granularity range of the processing is wide, and the recovery rate of mineral processing is high.
8. The combined flotation unit can be formed with the SF type flotation machine, the SF type flotation machine is used as the suction slot, and the JJF type is used as the DC trough.
Working principle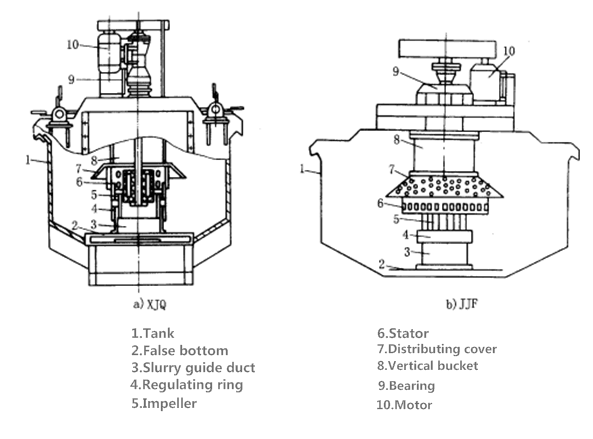 When the motor drives the impeller to revolve, the centrifugal force and negative pressure are generated. On one hand, ample air is absorbed and mixed with mine slurry. On the other hand, the mixed slurry is mingled with additive. meanwhile the foams are thinning, the mineral is bounded with foams, and floats go up to the surface of mine slurry and the mineralized foam is formed. The liquid surface can be adjusted with the height of adjustment flashboard, thus the useful foams are scraped with squeegee.
Parameters

Model

Volume m3

Capacity m3/min

Impeller diameter mm

Impeller revolution rpm

Mixing motor power kw

Scraping motor power kw

Weight kg

XJQ-4

4

2~5

400

290-315

11

1.1

3100

XJQ-8

8

4.2~10

560

205-225

22

5146

XJQ-16

16

8~20

700

170-180

30

1.5

9314

XJQ-28

28

14~35

760

166-185

55

15940
Model

Volume m3

Capacity m3/min

Impeller diameter mm

Impeller revolution rpm

Mixing motor power kw

Scraping motor power kw

Weight kg

JJF-2.8

2.8

1.5-3.5

340

400

7.5

1.5

2166

JJF-4

4

2.0-4

410

305

11

2303

JJF-5

5

2.0-6

2416

JJF-8

8

4.0-8

540

233

22

4700

JJF-10

10

5.0-10

4820

JJF-16

16

5.0-16

700

180

37

7600

JJF-20

20

5.0-20

730

8500
您可能喜欢