XCF/KYF flotation machine

Brief Introduction:An air-inflation mechanical agitation floatation cell without slurry suction.
Capacity: 0.2-50m3/min
Application : It is widely used in the selection of non-ferrous metal, black metal and non-metallic minerals. It is suitable for coarse and medium flotation plants to be selected and swept.
Product Improvement:Taper impeller with its blades sloping backward at certain angle, simple structure, strong agitation ability, and low energy consumption The impeller is equipped with holey cylinder air allocator. The air scattering is uniform and the mixing effect of air and slurry is good U-shaped tank, little sedimentation of sand.


浏览:113 次

更新: 2018-01-10 09:10:16
Features

1. The impeller of the floatation machine is a conical impeller with one angle in the rear of the blade. It has a strong stirring ability and simple structure.
2. In the impeller cavity, a multi air cylindrical air distributor is installed. The air is evenly distributed and the air slurry is well combined.
3. The diameter of the impeller is small, the circle speed is low, and the power consumption is small.
4. the mineral particles are suspended well, and the flotation index is high.
5. the U - shaped tank is used, and the tailings are less deposited.
6. easy wear parts wear light, long life.
7. the air is evenly distributed, and the gas slurry is well combined.
Working principle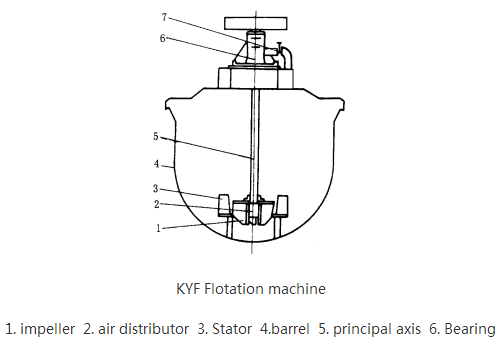 XCF and KYF flotation cell are air-inflation, mechanical agitation flotation machine. It is developed mainly refer to the flotation cells currently used in mines. It is designed fully considered about the flotation characteristics and processing conditions, absorb the advantages of mechanical agitation flotation cells to avoid the shortcomings and defects of old types.

Parameters

Model

Volume m3

Capacity m3/min

Impeller diameter mm

Impeller revolution rpm

Air blower pressure kpa

Maximum inflation m3/m2·min

Motor power kw

Weight kg

mixting

scraping

XCF-1

1

0.2-1

400

358

≥12.6

2

5.5

1.1

1154

XCF-2

2

0.4-2

470

331

≥14.7

7.5

1659

XCF-3

3

0.6-3

540

266

≥19.8

11

1.5

2259

XCF-4

4

1.2-4

620

215

≥19.8

15

2669

XCF-8

8

3.0-8

720

185

≥21.6

22

3968

XCF-16

16

4--16

860

160

≥25.5

37

6520

XCF-20

20

5-10

910

155

≥25

45

9200

XCF-24

24

4-24

950

153

≥30.4

55

9660

XCF-30

30

7-15

1000

141

≥31

55

14810

XCF-38

38

10-38

1050

136

≥34.3

55

17000

XCF-40

40

10-38

1050

138

≥34.3

75

17500

XCF-50

50

10-25

1120

110

≥33

90

22000

XCF-70

70

13-50

1200

103

≥35

90

26200
Model

Volume m3

Capacity m3/min

Impeller diameter mm

Impeller revolution rpm

Air blower pressure kpa

Maximum inflation m3/m2·min

Motor power kw

Weight kg

mixting

scraping

KYF-1

1

0.2-1

340

281

≥12.6

2

4

1.1

826

KYF-2

2

0.4-2

410

247

≥14.7

5.5

1419

KYF-3

3

0.6-3

480

219

≥19.8

7.5

1.5

1885

KYF-4

4

1.2-4

550

200

≥19.8

11

2206

KYF-8

8

3.0-8

630

175

≥21.6

15

3600

KYF-16

16

4.0-16

740

160

≥25.5

30

5900

KYF-20

20

5-20

780

155

≥25

37

8240

KYF-24

24

4-24

800

150

≥30.4

37

8540

KYF-30

30

7-30

900

141

≥31

45

13820

KYF-38

38

10-38

880

139

≥34.3

45

16500

KYF-40

40

10-38

950

138

≥34.3

55

17000

KYF-50

50

10-40

1030

120

≥33

75

22000

KYF-70

70

13-50

1120

110

≥35

90

26200
您可能喜欢