Leaching tank

Brief Introduction:Leaching agitaion tank is a leaching equipment for cyanide leaching.
Volume: 6-1740m³
Application : The double leaf impeller leaching agitator is suitable for gold leaching, sorption and other mixing operations with small specific gravity, low viscosity, slow settling speed, and ore particle size in -200 mesh of more than 90%. Pulp concentration is less than 45%.
Product Improvement:Double impeller, uniform mixing, low energy consumption; impeller package, long service life; use of multi point gas, even air.


浏览:90 次

更新: 2018-01-10 08:38:23
Features

1. the ore flow is stable, the mixture of the pulp is uniform and the energy consumption is less.
2. the air passes through the hollow shaft into the trough and stirs through the blade, and the air is dispersed evenly.
3. The structure is compact and the maintenance is convenient.
4. the hollow shaft is ventilated to the bottom, and the air is dispersed into the slot, and the air bubbles are small.
5. With two new impeller, the impeller diameter of the mixing tank is large, the speed is low, and the power consumption is small, and the wear of carbon can be reduced.
6. The mixing strength is moderate, the concentration and fineness of the pulp in the trough are the same, which can improve the leaching rate of cyanide and the adsorption rate of carbon.
7. The impeller of the leaching tank is lined with wear-resistant rubber, and the speed is low and the service life is long.
Working principle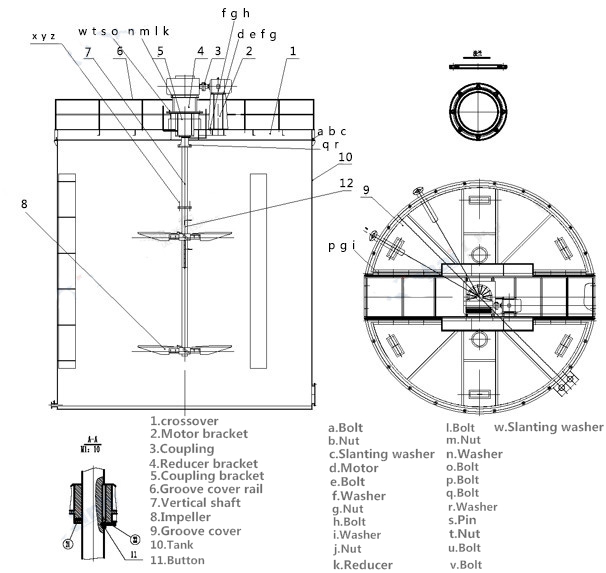 With dual impellers rotating and agitating, ore slurry moves downward and then diffuse along damping plate. Air is fed in tank from the lower end of shaft, and blended with ore slurry to form uniform suspending mixed liquid.In the gold cyaniding process,leaching agitation tank s applied to leach and carbon-absorb ore pulps whose fineness is 200 meshes and whose density is less than 45%. Under similar circumstance, it is also applied to agitation and leaching in metallurgy, chemical and light industry.
Parameters
Model

Diameter*Height mm

Volume m3

Impeller

Diameter mm

Reducer

Tank weight kg

Overall weight kg

Revolution rpm

Diameter mm

feeding pipe

Discharging pipe

Model

Ratio

Motor power kw

SJ2.0×2.5

2000×2500

6

52

909

2—Φ133×8

2—Φ133×8

XLD2.2-4-29

29

2.2




2144

SJ2.5×3.15

2500×3150

13.14

935

2—Φ133×8

2—Φ133×8

2242

3095

SJ3.0×3.0

3000×3000

18

40.85

1130

2—Φ150

2—Φ150

XLD4-5-35

35

4

2802

4161

SJ3×3.15

3000×3150

18.93

43

1130

2—Φ150

2—Φ150

3331

4323

SJ3.15×3.55

3150×3550

24

43

1260

2—Φ150

2—Φ150

3391

4583

SJ3.5×3.5

3500×3500

30

52

1310

2—Φ150

2—Φ150

XLD5.5-5-29

29

5.5

4286

5025

SJ3.5×4.0

3500×4000

32.7

41

1310

2—Φ150

2—Φ150

4631

5429

SJ3.55×4.0

3550×4000

33.6

43

1310

2—Φ150

2—Φ150

XLD4-5-35

35

4

4860

5825

SJ3.7×4.2

3700×4200

38.4

42

1310

2—Φ150

2—Φ150

XLD4-5-35

43

4

5058

6153

SJ4.0×4.0

4000×4000

38

35

1750

2—Φ159×8

2—Φ159×8

XLD7.5-7-43

43

7.5

6056

7450

SJ4.0×4.5

4000×4500

48

35

1750

2—Φ159×8

2—Φ159×8

XLD7.5-7-43

43

7.5

6106

7569

SJ4.5×5.0

4500×5000

71.57

1750

2—Φ159×8

2—Φ159×8

XLD7.5-7-43

43

7.5

7506

10864

SJ5.0×5.6

5000×5600

98

31

2046

2—Φ159×8

2—Φ159×8

XLD11-8-47

47

11

10483

14291

SJ5.5×6.0

5500×6000

112

2100

2—Φ159×8

2—Φ159×8

47

11

14209

18745

Φ6×6.5

6000×6500

170

24.9

2300

2—Φ168×8

2—Φ168×8

XLD18.5-9-35

31.5

18.5

16164

21006

Φ6.5×7

6500×7000

215

23

2400

2—Φ168×8

2—Φ168×8

XLD18.5-9-43

43

22

17190

25567

Φ7.0×7.5

7000×7500

245.4

21

2400

2—Φ168×8

2—Φ168×8

XLD22-10-47

47

22

22091

30486

SJ7.5×8.0

7500×8000

268.6

21

2900

2—Φ168×8

2—Φ168×8

XLD22-10-47

47

22

26958

34365

SJ8.0×8.5

8000×8500

342

16.4

3200

2—Φ219×8

2—Φ219×8

Y250M-8




30

33489

42468

Φ8.5×9

8500×9000

395

18.5

3300

2—Φ219×8

2—Φ219×8

Y250M-8




30

36696

46623

Φ9.5×10

9500×10000

648

16.6

3750

2—Φ273×8

2—Φ273×8

Y280S-8




37

46261

59786

Φ10.5×11

10500×11000

900

13.28

4400

2—Φ325×8

2—Φ325×8

Y315S-8




55

56888

72647

Φ11.5×12

11500×12000

1190

12.1

4600

2—Φ325×8

2—Φ325×8

Y315M-8




75

67669

95669

Φ12×13

12000×13000

1414

13.4

4600

2—Φ377×8

2—Φ377×8

Y315L1-8




90

88418

120635

Φ13×14

13000×14000

1740

10.7

5200

2—Φ377×8

2—Φ377×8

JR125-8




110

113669

148666