Thickener with central transmission

Brief Introduction:A concentrator with a central hydraulic motor drive and a hydraulic automatic rake.
Volume: 25~7853 ㎡
Application : It is mainly used for clarification and concentration of pulp in order to achieve the purpose of dehydration. It can also be used in chemical and metallurgical industries to carry out the dehydration of solid-liquid separation.
Product Improvement:The maximum inside diameter can be up to 100M.


浏览:117 次

更新: 2018-01-10 08:37:52
Features

1.increase the degassing tank, to avoid solid particles attached to the bubble, like the "parachute" settlement phenomenon.
2. The feeding tube is located below the level of the liquid to prevent the gas from entering.
3. the feed well is moved down, and the feed plate is set up to make the pulp even and smoothly fall, effectively preventing the phenomenon of overturning caused by the residual pressure of the ore.
4. the internal overflow weir is added to make the material flow according to the prescribed stroke, so as to prevent the "short circuit" phenomenon.
5. The overflow weir is changed into sawtooth, which improves the suction phenomenon of local drainage due to the non level of overflow weir.
6. will be changed by slash tooth alignment curve, so that the pulp not only to the center of harrow, but also a center to "backlog" force to discharge the underflow concentration is high, thus increasing the processing ability.
Working principle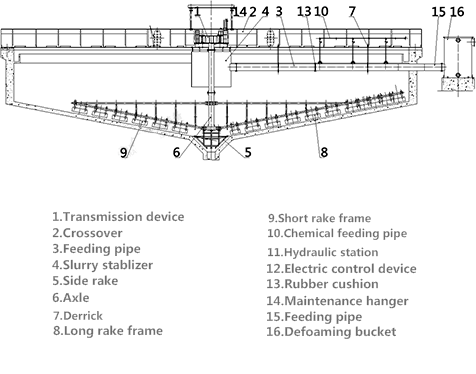 The hydraulic station provides power for the driving device, and the oil pump of the hydraulic station is a variable displacement pump. By adjusting the oil discharge of the oil pump, the speed of the rack can be changed, so as to achieve the best technological effect. When the settlement to the bottom of the concentrated pool of material increase, bed layer thickness, the working resistance of the harrow frame also will increase, when the working resistance increases to 4MPa, the pressure relay, time relay, electromagnetic valve, cut off the oil hydraulic motor, the spindle stop, put the oil cylinder drives the harrow frame upward, delay about 3 ~ 5S minutes later, the solenoid valve action again, restore the supply of oil to the hydraulic motor, the spindle turns to work. When the harrow frame after the upgrade, the working resistance decreases; if reduced to below 4MPa, is no longer a rake, rotary harrow frame stay high, consumption will benefit to the tooth material with the central pool, the working resistance gradually decreases, the harrow frame by their own weight gradually decreased to normal working position. When the working resistance is increased to the set value again, the rake frame is raised again, and the above action is repeated to achieve the purpose of automatic lifting and raking.

Parameters
| | | | | | | | |
| --- | --- | --- | --- | --- | --- | --- | --- |
| Model | Tank diameter m | Depth m | Subsidence Area m2 | Harrow Rack rotation time min/r | Lifting Harrow height mm | Capacity t/d | Drive Power kw |
| NZY-6 | 6 | 3~3.2 | 25 | 2.5~5 | 350 | 50~100 | 3 |
| NZY-9 | 9 | 3.5~3.8 | 63.6 | 3~5 | 350 | 120~175 | 3 |
| NZY-12 | 12 | 3.5~3.8 | 113 | 4~7 | 350 | 200~300 | 4 |
| NZY-15 | 15 | 4~4.5 | 176 | 5~10 | 450 | 350~400 | 5.5 |
| NZY-18 | 18 | 4~4.5 | 254 | 8~12 | 450 | 600~800 | 5.5 |
| NZY-20 | 20 | 4~4.5 | 314 | 8~12 | 450 | 800~1000 | 7.5 |
| NZY-24 | 24 | 4.5~5.5 | 450 | 9~12 | 450 | 1000~1300 | 7.5 |
| NZY-30 | 30 | 4.5~5.5 | 706 | 10~14 | 450 | 1500~1800 | 11 |
| NZY-38 | 38 | 6.5~8 | 1134 | 15~22 | 600 | 1800~2200 | 15 |
| NZY-40 | 40 | 6.5~8 | 1256 | 15~22 | 600 | 2200~2400 | 15 |
| NZY-45 | 45 | 6.5~8 | 1590 | 15~22 | 600 | 2400~2800 | 15 |
| NZY-53 | 53 | 6.5~8 | 2206 | 15~22 | 600 | 3000~3500 | 15 |
| NZY-60 | 60 | 7~8.5 | 2827 | 16~50 | 600 | 3500~5000 | 18.5 |
| NZY-75 | 75 | 8~10 | 4418 | 20~80 | 800 | 7500~10000 | 22 |
| NZY-100 | 100 | 8~10 | 7853 | 35~80 | 800 | 10000~15000 | 30 |
您可能喜欢