Efficient Improved Thickener

Brief Introduction:The high efficiency thickener adopts the new technology structure from the addition of flocculant, the way of ore feeding, the automation control and the internal structure. Compared with the ordinary thickener, the high-efficiency thickener has the advantages of large production capacity (processing capacity can be increased by several times or tens of times), small traditional power, compact structure and small footprint.
Volume: 5-1400t/d
Application : It is suitable for occasions with large volume and low product concentration. It is mainly used for concentrating concentrates and dewatering of tailings. It can also be widely applied to concentrate and purify solid particles and liquids in chemical industry, building materials and water and sewage treatment industry.
Product Improvement:After improvement, the processing capacity is large, the turbidity of the overflow is low and the concentration of the discharge is high.


浏览:102 次

更新: 2018-01-10 08:37:23
Features

1. in which the degassing tank is added, the solid particles can be eliminated on the bubble, and it is like "parachute" to settle down.
2. its ore pipe is designed under the liquid surface to prevent the gas from entering the mine.
3. the ore sleeve is moved down, and the feed plate is provided, the pulp is uniformly and smoothly, and the phenomenon of the overturning caused by the residual pressure is effectively prevented.
4. the internal overflow weir is added to make the material flow in accordance with the regulations, prevent the "short circuit" phenomenon and greatly increase the precipitation area.
5. The overflow weir is changed into sawtooth, which improves the local suction caused by the non horizontal overflow of the overflow weir.
6. Changing the traditional overflow weir is the overflow weir, which increases the settlement area and is not easy to plug the material.
7. instead of the traditional horizontal feeding concentrators is inclined feeding, fundamentally eliminate feedingblockage problems.
8. with a slow flow device, slow velocity of water rising material, make more uniform, lower turbidity of overflow.
Working principle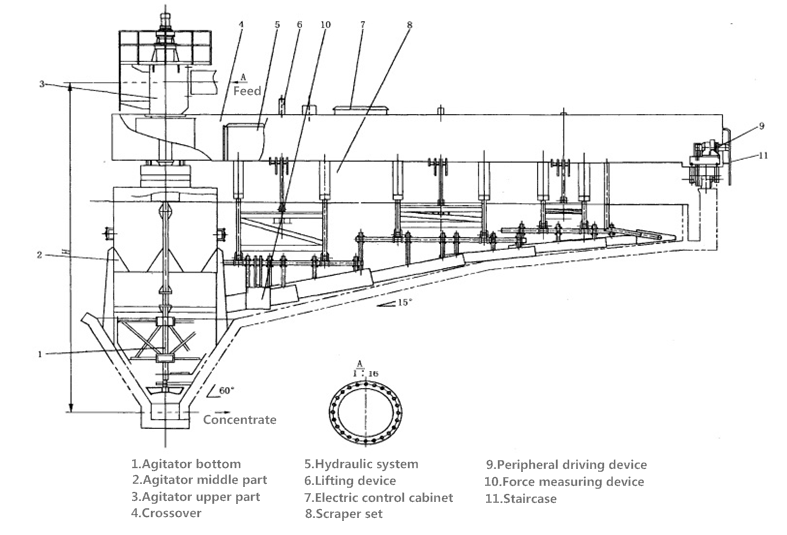 Mainly consists of a circular thickener and thickener rake scraper. the settlement of solid particles suspended in a slurry concentrated pool under the action of gravity, the upper is clear water, the solid-liquid separation, deposited on the bottom of the mud rake thickener by scraper for scraping set to the bottom center of the discharge port of discharge, and the clean water is concentrated along the overflow pool.

Parameters
| | | | | | | | | |
| --- | --- | --- | --- | --- | --- | --- | --- | --- |
| Model | Tank diameter mm | Depth mm | Subsidence Area m2 | Capacity t/d | Motor | Power kw | Tank weight kg | Overall weight kg |
| NJG-2.5 | 2500 | 1850 | 4.9 | 5-22.4 | Y90L-6 | 1.1 | 1000 | 2225 |
| NJG -3A | 3000 | 1800 | 7 | 5-23.3 | Y100L-6 | 1.5 | 1664 | 3168 |
| NJG -3 | 3600 | 1800 | 10.2 | 5-28.5 | Y100L-6 | 1.5 | 2097 | 3680 |
| NJG -5 | 5000 | 2956 | 16 | 16-90 | Y90L-4 | 1.5 | 5160 | 7908 |
| NJG -6 | 6000 | 2956 | 28.3 | 98 | Y90L-4 | 1.5 | 5769 | 8772 |
| NJG -7 | 7000 | 3000 | 38.5 | 140 | Y112M-6 | 2.2 | 8800 | 13862 |
| NJG -8 | 8000 | 3318 | 50.2 | 185 | Y132S-6 | 3 | 12966 | 19158 |
| NJG -9 | 9000 | 3376 | 63 | 210 | Y132S-6 | 3 | 15418 | 21733 |
| NJG -12 | 12000 | 3600 | 113 | 370 | Y132S-6 | 3 | 25589 | 34823 |
| NJG -15 | 15000 | 3600 | 176 | 580 | Y132S-4 | 5.5 | 35800 | 54315 |
| NJG -18 | 18000 | 4400 | 255 | 960 | YCT200-4B | 7.5 | 52485 | 73588 |
| NJG -20 | 20000 | 4400 | 315 | 1400 | YCT200-4B | 7.5 | 59365 | 76312 |
您可能喜欢