Peripheral Transmission Thickener

Brief Introduction:It is divided into two forms, which are the peripheral roller drive and the peripheral rack drive.
Capacity: 88-3400t/d
Application : It is mainly used for the dehydration treatment of wet selection and selection in the process of mineral processing, which is used as the first stage of concentrated dehydration. It is usually set between selected and filter equipment, sometimes used as a pre selected dehydration, and can also be used for dehydration in the chemical industry.
Product Improvement:A single row of cross column rotary support or single row four point contact spherical revolving support is used. The electric device is well insulated and the outer revolving part has a portable protective cover.


浏览:104 次

更新: 2018-01-10 08:36:54
Features

1. The degassing tank is added to eliminate the solid particles attached to the bubble.
2. A buffer box is added to the center support to prevent overfeeding and spillage.
3. the center bracket is a slewing support, with compact structure and good sealing performance. The steel ball has four points contact with the circular raceway, it can bear axial force, radial force and tipping moment at the same time. It is easier to maintain, convenient to fuel and longer in service life.
4. The vertical cylinder of the ore is moved down to make the pulp even and smooth down, and effectively prevent the phenomenon of the overturning caused by the residual pressure of the ore.
5. Add the flocculant adding device at the pipe to the ore pipe, and improve the processing capacity by 3-6 times.
Working principle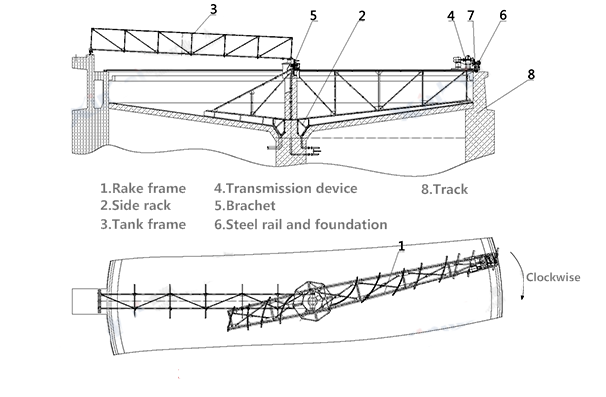 Consists of round thickener and harrow scraper, the solid particles suspend in thickener settling by gravity, the pulp in the upper turns into clean water, so that the separation can be realized. Slime that sediment in the bottom of the thickener is discharged by the harrow scraper continuously, and clean water overflow from the upside.

Parameters
| | | | | | | | |
| --- | --- | --- | --- | --- | --- | --- | --- |
| Model | Tank diameter mm | Depth mm | Subsidence Area m2 | Capacity t/d | Motor | Power kw | Weight kg |
| DLNT-15 | 15000 | 3500 | 88~390 | 177 | Y132M2-6 | 5.5 | 11702 |
| DLNT-18 | 18000 | 3700 | 127~560 | 255 | Y132M2-6 | 5.5 | 12120 |
| DLNT-24 | 24000 | 3400 | 226~1000 | 452 | Y160M-6 | 7.5 | 28270 |
| DLNT-30 | 30000 | 3940 | 353~1570 | 707 | Y160M-6 | 7.5 | 31000 |
| DLNT-45 | 45000 | 5025 | 790~2400 | 1590 | Y160L-6 | 11 | 58640 |
| DLNT-53 | 53000 | 5070 | 1000~3400 | 1964 | Y160L-6 | 11 | 69410 |
| | | | | | | | |
| --- | --- | --- | --- | --- | --- | --- | --- |
| Model | Tank diameter mm | Depth mm | Subsidence Area m2 | Capacity t/d | Motor | Power kw | Weight kg |
| DLNG-15 | 15000 | 3612 | 88~390 | 177 | Y132M2-6 | 5.5 | 11702 |
| DLNG-18 | 18000 | 3500 | 127~560 | 255 | Y132M2-6 | 5.5 | 9718 |
| DLNG-24 | 24000 | 3400 | 226~1000 | 452 | Y160M-6 | 7.5 | 24000 |
| DLNG-30 | 30000 | 3940 | 353~1570 | 707 | Y160M-6 | 7.5 | 31000 |
| DLNG-45 | 45000 | 5060 | 790~2400 | 1590 | Y160L-6 | 11 | 50640 |
| DLNG-53 | 53000 | 5070 | 1000~3400 | 2202 | Y160L-6 | 11 | 60910 |
您可能喜欢