Trommel

Brief Introduction:Used off the mud or rock gold in placer gold ore dressing equipment.
Capacity: 50-800t/d
Application:It is widely used in mine, construction, chemical industry and other industries. To remove the mud in stone sand gold; for sand or sand separation in rock gold.
Product Improvement:According to customer requirements, different screen mesh material, sieve size, high screening efficiency, long service life, low maintenance cost.


浏览:102 次

更新: 2018-01-10 09:08:49
Features

1. Using the rolling principle, the friction coefficient is small, the wear is light, and the sieve hole is not easy to clog.
2. The roller bearing adopts the whole shaft structure, which runs smoothly, does not vibrate, and the noise is low.
3. The inner cylinder mesh fittings are designed with split body. The structure is simple and the replacement is quick and convenient.
4. the roller body uses the effective full seal structure, does not lift the dust, does not pollute.
5. the operation is safe and reliable, the speed reduction drive is adopted, the transmission efficiency is high, the power distribution is small, the energy consumption is low, and the energy saving effect is obvious.
6. according to customer requirements, different screen mesh material, sieve size, high screening efficiency, long service life, low maintenance cost.
Working principle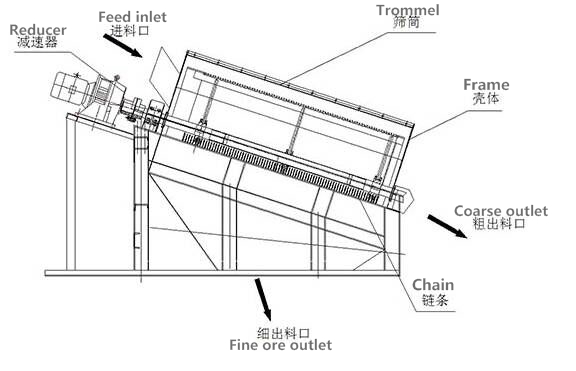 The roller device is tilted on the rack. The motor is connected by a coupling through a coupling through a reducer and a roller device, and the driving roller device rotates around its axis. When the material enters the cylinder device, due to tilting and rotating drum device, so that the screen material turnover and rolling, the fine materials (sieve products) is discharged through the discharge port at the bottom of the rear end of the drum, larger materials (sieve products) is discharged through the discharge port of the cylinder tail。

Parameters

Model

Capacity tph

Power kw

Trommel diameter mm

Trommel length mm

Feeding size mm

Fine outlet size mm

Dimension mm

GTS1015

50

3

1000

1500

≤300

0~100

2600×1400×1700

GTS1020

100

4

1000

2000

3390×1400×2140

GTS1225

160

5.5

1200

2500

4146×1600×2680

GTS1530

250

7.5

1500

3000

4460×1900×2820

GTS1545

350

11

1500

4500

≤400

5960×1900×3080

GTS1848

450

15

1800

4800

6500×2350×4000

GTS2055

600

22

2000

5500

7500×2550×4800

GTS2265

800

30

2200

6500

8500×2750×5000